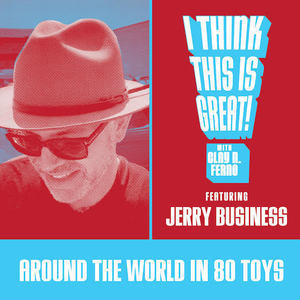 Jerry Business
Special guest
SHHHHH… JEREMY LACROIX IS JERRY BUSINESS
GIVING NEW MEANING TO THE TERM "CYBERPUNK", LACROIX, ORIGINALLY FROM BOSTON, RAMPAGED THROUGH THE 90'S AS LEAD SINGER FOR LOCAL PUNK ROCK BAND "BASTARD SQUAD". THE GENESIS FOR "JERRY BUSINESS" CAME IN TWO PARTS. FIRST, "JERRY" WAS THE RESULT OF A SEVENTH GRADE SHOP TEACHER WHO'S THICK BOSTON ACCENT MADE IT TOO DIFFICULT FOR HIM TO PRONOUNCE " JEREMY" EVENTUALLY GIVING UP HE CALLED HIM JERRY IN CLASS. CLASSMATES FOLLOWED SUIT. " BUSINESS" CAME FROM OFTEN BEING THE ONE IN THE BAND PUBLISHING AND PROMOTING RECORDS, BOOKING SHOWS, MAKING FLYERS AND COLLECTING DOOR AND MERCH MONEY. JERRY BUSINESS WAS BORN.
AS THE MILLENNIUM CAME AND WENT MR BUSINESS FOUND HIMSELF APPLYING HIS ARTISTIC TALENTS AS AN ILLUSTRATOR, PAINTER, PHOTOGRAPHER AND DESIGNER TO THE EMERGING DIGITAL MEDIA THAT WAS RAPIDLY DEVELOPING IN AND AROUND THE BAY AREA. ALWAYS A SUCCESSFUL LEADER, COLLABORATOR AND MOTIVATOR HE BEGAN WORKING HIS DAY JOB WITH SOME OF THE MAJOR DIGITAL DESIGN PLATFORMS AND ON-LINE MEDIA CONGLOMERATES LIKE INFOWORLD, FORBES, AOL, CBS INTERACTIVE AND ART DIRECTOR FOR WIRED MAGAZINE. LACROIX ALSO HAD A STINT TEACHING MAGAZINE AND WEB DESIGN AT STANFORD UNIVERSITY.
NOT ONE FOR SITTING STILL LACROIX IS CURRENTLY HEAD OF DESIGN, PLATFORM INNOVATION AT SERVICENOW. WE CAUGHT UP WITH J BIZ TO ASK HIM ABOUT IS ONGOING SERIES OF TOY PHOTOGRAPHS AND HOW HE KEEPS A BALANCE BETWEEN WORK AND PLAY.
JERRY BUSINESS: THE TOY SHOT SERIES HAS BEEN A FORM OF THERAPY FOR ME. I'VE ALWAYS TRIED TO KEEP A HEALTHY BALANCE OF CREATING MORE THAN CONSUMING IN LIFE (OR AT LEAST BREAKING EVEN) AND THIS BECOMES TOUGHER AS LIFE HAS A NASTY HABIT OF GETTING IN THE WAY OF DREAMS. GETTING OLDER IT HAS BECOME MORE DIFFICULT TO NURTURE ALL THE CREATIVE OUTLETS I'VE EXPLORED THROUGHOUT MY LIFE LIKE PAINTING AND MUSIC. I REALIZED I WAS SLIPPING TOO FAR INTO CONSUMING, WORKING MY DAY JOB, FALLING INTO A ROUTINE AND NOT CREATING LIKE I USED TO. I WAS CRAVING SPONTANEITY, RAW ENERGY AND DANGER. I WAS AN EARLY ADOPTER OF INSTAGRAM AND LOVED THE SOCIAL SIMPLICITY IT BROUGHT TO PHOTOGRAPHY. BEGINNING WITH A MODEST GOAL, I SAID I'LL POST ONE IMAGE A DAY AND THAT BECAME MY WAY OF GETTING THE CREATE VS. CONSUME BALANCE CORRECTED IN MY LIFE. SINCE THEN I HAVE EVOLVED MY SHOOTING, FOCUSING ON USING A TECHNIQUE CALLED FORCED PERSPECTIVE TO PLAYFULLY JUXTAPOSE SMALL TOYS IN REAL WORLD SETTINGS SO THEY APPEAR MUCH LARGER THAN THEY ARE. THESE SHORT NARRATIVES TAKE LITTLE TIME OR FORETHOUGHT, THE ONLY CAVEAT BEING I GENERALLY CARRY ONE OR TWO SMALL TOYS AROUND WITH ME AT ALL TIMES. THEY KEY IS SPONTANEITY, WHEN MY MIND CONNECTS THE LIGHTING, TIMING AND SCENERY OF A MOMENT (AND I MANAGE TO REMEMBER THAT I ACTUALLY HAVE A TOY IN MY POCKET!) I THROW IT DOWN AND "SNAP". GENERALLY 10-15 SNAPS AND THEN I EDIT THEM LATER. ALL THE EDITING IS DONE ON MY PHONE.
FOLLOW MR. BUSINESS ONLINE: HTTPS://JERRYBUSINESS.SMUGMUG.COM
Jerry Business has been a guest on 1 episode.
Episode | November 28th, 2018 | Season 1 | 1 hr 8 mins

art, books, claynferno, compassion, ithinkthisisgreat, ittigpod, leaguepodcast, music, podcast, this is great podcast

I Think This Is Great! With Clay N. Ferno