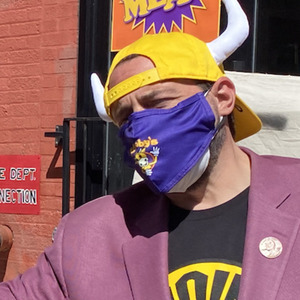 Kevin Smith
Special guest
Kevin Smith is an American director, producer, scriptwriter and actor. As a comic book writer, he authored "Silent Bob Speaks", "Chasing Dogma" and "Spider-Man / Black Cat: The Evil that Men Do". As an actor, he portrayed the character of Silent Bob in films like 'Clerks' and 'Jay and Silent Bob Strike Back'. The television series 'Degrassi: The Next Generation' proves his acting ability to portray his own fictionalized version. Born in New Jersey, this multi-talented person's first film 'Clerks' presents his outlook on America's consumer culture that he experienced while working as a clerk at a convenience store. Besides being the director of this film, he was also the producer, scriptwriter and one of its actors. Though his second film 'Mallrats' failed at box office, the success of his third film 'Chasing Army' compensated his financial loss he faced after the release of 'Mallrats'. He received death threats for his next film 'Dogma' that deals with issues of Christian Church and Catholic belief. The sequel of his popular film 'Clerks' was named 'Clerks II' and it earned him critical acclaim. He has also left his mark on television.
Kevin Smith has been a guest on 1 episode.
Episode | April 11th, 2021 | Season 2 | 29 mins 24 secs

clerks, house of blues, house of blues boston, jay and silent bob, kevin smith, mooby's, mooby's popup, silent bob

Clay speaks with Kevin Smith about Mooby's Pop-up at House of Blues Boston for Do617 and LeaguePodcast. Bonus to the #ITTIGPOD!