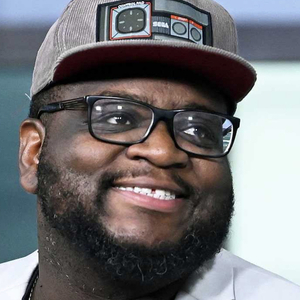 MEGA RAN
Special guest
Random, aka Mega Ran, aka RandomBeats... Teacher, Rapper, Hero. Guinness World Record Holder.
When LA Weekly said that Ran's "fanbase and niche audiences are growing at a rate not seen since Tech N9ne," they meant it. A former middle school teacher, Mega Ran (formerly Random) blends education, hip-hop and gaming in amazing new ways, penetrating the farthest reaches of the galaxy with his unique rhyme style and electric performances.
Ran cut his teeth in the city of Philadelphia as a moonlighting emcee and producer, performing, freestyle rapping, producing and later engineering at a studio. After relocating to Phoenix, competing in the Scribble Jam emcee battle championships and taking an early exit, Ran almost quit before he was even started, when a creative lightning bolt struck, and a fire was lit.
MEGA RAN has been a guest on 1 episode.
Episode | January 26th, 2021 | Season 2 | 43 mins 54 secs

art, books, claynferno, compassion, ithinkthisisgreat, ittigpod, leaguepodcast, music, podcast, this is great podcast

Clay is joined by Raheem Jarbo aka MEGA RAN to talk about his debut book, a Memoir, Dream Master.

Featuring a foreword by Austin Creed, aka Xavier Woods of the WWE tag team The New Day.
Over five years in the making, the highly anticipated rapper's memoir shows how hip-hop, education and video games keep Mega Ran on a straight and narrow path but also gave him the courage to completely depart from it and create a foothold in the most unlikely of vocations.