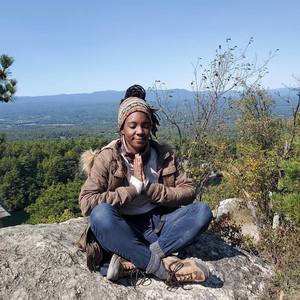 Akilah Anderson - uniquelyfit2u
Special guest
My name is Akilah and I created UniquelyFit2U to be an enjoyable safe space for vulnerability, growth and healing.
Here you will find compassionate support and encouragement as you explore your healing journey in overcoming trauma, anxiety, depression, and suicidal thoughts.
No longer will you look in the mirror and see a stranger merely surviving life. You are a warrior and have the ability to create a reality that is unique to you, where you are empowered to thrive and be your most authentic self; mind, body & soul.
Eclectic tool kit in hand and guidance in mind, Akilah has had a lifelong connection to her natural gift of being a healer. She has forever sought deeper meaning and significance in life, and passionately uplifts others as she continues discovering her own path.
Through mind, body, spirit wellness, she empowers others to approach their shadow and awaken love and acceptance in all parts of their authentic selves. Each of her clients receive Akilah's intuitive care as they are guided through their own unique healing process.
Her expertise derives from her self-guided spiritual practice and study in Kinesiology, Reiki, Meditation, Mindfulness, Energy Healing, Chakra Balancing, Personal Training, Nutrition, Life coaching, NLP, and Tarot.
"I have thrown my voice out rooting people on towards success. You have what it takes to love your life. Fill it with joy and good energy. Let me root for you! You Got This" - Akilah
Akilah Anderson - uniquelyfit2u has been a guest on 1 episode.
Episode | March 23rd, 2021 | Season 2 | 1 hr 10 mins

art, books, claynferno, compassion, ithinkthisisgreat, ittigpod, leaguepodcast, music, podcast, this is great podcast

I Think This Is Great! With Clay N. Ferno