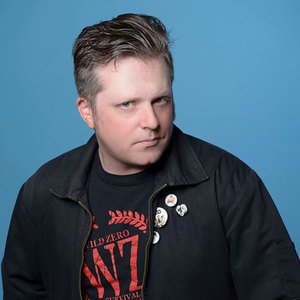 Clay N. Ferno
Host of I Think This Is Great! with Clay N. Ferno
CLAY N. FERNO
Music industry professional with 17 years of experience in concert, event promotion and social media. Accomplishments include landing on the cover of The Boston Phoenix in 2005 for being the 'Most Popular Man in Boston' — according to the social networking site MySpace. In 2015 he interviewed Stan "The Man" Lee for a DigBoston cover story. When comic book conventions roll into town, Clay is asked to moderate panels of top industry talent. Clay likely be found scouring the quarter bins for forgotten gems at comic shops and record stores. Co-host of weekly pop culture podcast and event promoter at LeaguePodcast.com.
CURRENT 2018 COMICS / WRITING / CONVENTION BIO:
Clay N. Ferno is a social media and music-business professional living in Boston. He contributes comic book, movies and pop culture columns to 13th Dimension, Forces Of Geek! and DigBoston. He has been a part of the comic-book podcasting community since 2009 with his friends at LeaguePodcast.com.
Clay spends his time producing concerts and book-signing events when he's not chasing a deadline or stopping by convention tables to chat up his comic-book creator heroes and showing off his Arashikage tattoo! Follow Clay on Twitter (@claynferno) or visit his site at www.claynferno.com
Clay N. Ferno has hosted nine Episodes.