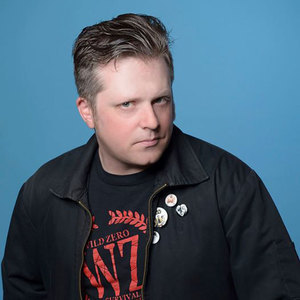 Clay N. Ferno
Host of I Think This Is Great! with Clay N. Ferno
Clay Fernald has rocked social media, concert, and event-promotion in the music industry for more than 20 years, including 17 at the famed Middle East nightclub. He made the cover of the Boston Phoenix for social media as the "Most Popular Man in Boston." An avid comic book aficionado, Clay once interviewed Marvel Comics legend Stan Lee for a cover story. He moderates panels of top industry talent at comic book conventions.
Clay hosts a weekly pop culture podcast and promotes events at LeaguePodcast.com and iThinkThisIsGreat.com. Since 2015 he's been a social media consultant for bands, a social media instructor, video editor, podcast producer, and a trusted member of the local music community, sitting on the board of SaveMAStages to help bring back live music and podcast events after the pandemic. As part of Do617.com - an events-marketing platform and nationwide network of event websites - Clay wrote all copy, Instagram posts, Twitter posts, and content guides on the site, driving traffic for concerts and giveaways. When he's not working, you can find him scouring the quarter bins for forgotten gems at comic shops and record stores.
Clay N. Ferno has hosted 38 Episodes.